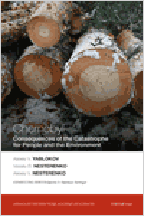 Chernobyl
Consequences of the Catastrophe for People and Nature
Written by Alexey V. Yablokov (Center for Russian Environmental Policy, Moscow, Russia), Vassily B. Nesterenko, and Alexey V. Nesterenko (Institute of Radiation Safety, Minsk, Belarus). Consulting Editor Janette D. Sherman-Nevinger (Environmental Institute, Western Michigan University, Kalamazoo, Michigan).
Volume 1181, December 2009
This is a collection of papers translated from the Russian with some revised and updated contributions. Written by leading authorities from Eastern Europe, the volume outlines the history of the health and environmental consequences of the Chernobyl disaster. Although there has been discussion of the impact of nuclear accidents and Chernobyl in particular, never before has there been a comprehensive presentation of all the available information concerning the health and environmental effects of the low dose radioactive contaminants, especially those emitted from the Chernobyl nuclear power plant. Official discussions from the International Atomic Energy Agency and associated United Nations' agencies (e.g. the Chernobyl Forum reports) have largely downplayed or ignored many of the findings reported in the Eastern European scientific literature and consequently have erred by not including these assessments.
Order directly from Greko Printing, 260 W. Ann Arbor Rd., Plymouth, MI 48170, 734-452-0341, orders@grekoprinting.com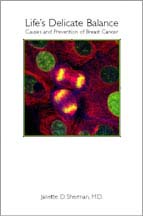 Life's Delicate Balance
Causes and Prevention of Breast Cancer
Special Sale Offer! Despite the fact that the cancer epidemic has not ended, my publisher has decided to take this book out of print. Far too few people understand that cancer is caused by…carcinogens! These are the chemicals, pesticides, endocrine disrupters, and nuclear radiation that are contaminating our environment. We need to educate our friends and colleagues in order to stop this epidemic.
The last remaining copies of Life's Delicate Balance are available for $10.00, plus $4.00 postage. For larger orders, please contact me directly to arrange for shipping.—JDS
Life's Delicate Balance defines and documents known causes of breast cancer, and emphasizes the means of prevention. Published at a critical time, this book is applicable to other cancers affecting women, men and children, and useful for all those working toward prevention of cancer. Patients, family members, environmental activists, physicians, and attorneys will find this book informative and insightful.
"A well informed academic recently expressed disbelief that there were established causes of cancer beyond diet and exercise! Should said professor read Life's Delicate Balance by Dr. Janette Sherman, his ignorance would be quickly dispelled. Considering that 'traditional' risk factors account for no more than 30% of breast cancers how do we explain the causes of the other 70%? It is always more convenient to 'blame the cancer victim' while obscuring the effects of pollution from radiation, carcinogens and unregulated drugs in our air, food and water."—Lanie Melamed, Breast Cancer Action Montreal
"Rachel Carson introduced the public to the links between pollution and breast cancer in her groundbreaking Silent Spring (1962) . . . [Life's Delicate Balance] serves as a continued clarion call to clean up the environment."—Library Journal
"It is clear to Sherman—and her arguments are compelling—that while gains may be made by researchers in understanding the mechanisms of disease, true advances in conquering cancer will only come when we 'understand the connections between the loss of personal health and the worldwide pollution from toxic chemicals, ionizing radiation, and endocrine-altering chemicals.' . . . Take action, she counsels, demand real prevention: 'Be outraged by the status quo of waste, sickness, needless early death, loss of human potential, and the loss and degradation of the world's resources."—Kirkus Reviews
"Finally a book about breast cancer that is willing to call things by their real names . . . should be on every cancer activist's shelf."—Barbara Brenner, Executive Director, Breast Cancer Action
"Dr. Sherman probes the synergistic relationship between nuclear fallout and chemical pollutants as the major cause of the breast cancer epidemic in our times …a fitting successor to (Rachel Carson's) Silent Spring."—Dr. Jay Gould, Ph.D., Director, Radiation and Public Health Project
"Finally, scientific answers telling us what does cause cancer. And it's not all in our genes!"—Rose Marie Williams, President, Cancer Awareness Coalition
"[Dr. Sherman] carefully sifts the evidence to make a convincing argument that the causes [of cancer] are chemicals and radiation from the environment."—Kaye Kilburn, M.D., Professor of Medicine, UCLA School of Medicine and author of Chemical Brain Injury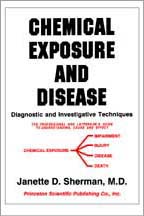 Chemical Exposure and Disease
Diagnostic and Investigative Techniques
Written by a physician-toxicologist after examining some 8,000 patients over a 25 year span, this book is a must for every person asking the question "Why?" Why did I get sick? Why is the cancer rate so high? Why was my child born with birth defects?
Chemical Exposure and Disease provides investigative and diagnostic techniques for the lay reader as well as the medical and legal community. It is easy to understand and gives case studies for all body systems. Pesticides are covered in depth as are other inherently dangerous industries, including waste disposal, incineration, and the manufacture and use of plastics, paints, and solvents.
Extensive bibliographic sources are provided, including historical references, dispelling the notion that "more studies are needed" before we can take action to prevent harm. Chemical Exposure and Disease is a must for all activists, whether lay or professional, who want to prevent disease.
"In the book Chemical Exposure and Disease, author Janette D. Sherman, M. D. tackles the ethical questions and concludes: 'The ability to recognize chemically-caused disease and injury has come to the forefront because it is necessary not only to treat these conditions, but more important, to anticipate the consequences of chemical exposures, and to prevent them.' . . . Of special note is the fact [of] persistent chemicals that will be a source of exposure long after their use—in water bodies where they have been deposited, in dust that blows in the wind, and [in] human fat tissue where they are stored until an event such as weight loss would release the chemicals back into the system."—Katherine Duff, Townsend Letter for Doctors & Patients
This book is out of print, but can be found via online searches.